DAVID RAY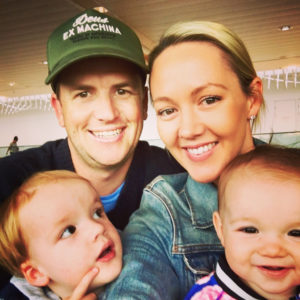 September 2016
Q: Can you tell us a little bit about yourself?
I am a devoted husband to my beautiful wife Georgia and father to our lively little boy Oscar. My wife and I had our second child in May this year so life is very busy, but exciting and fun nonetheless. To keep the balance between work and family life I love to get involved in triathlons. I have competed in a few Ironman competitions and have a general passion for sport.
Q: Can you tell us a bit about your business?
Elite Finance Professionals is an award winning boutique financial services company that offers professional yet highly personalised mortgage advice. As your personal mortgage broker, my primary role is to assess your borrowing capacity, structure and risks. I present the most suitable loans available for your individual circumstances from across 25 different lenders, opposed to one (the bank). I also offer the client VIP access to fast-track bank loan approvals, negotiate better rates and manage all administration throughout the process with no hidden service fees. Ultimately, my role is to provide you with peace of mind and 100% trust and reliability during a typically stressful and often confusing process.
Q: Where did you grow up?
I grew up in the Sutherland Shire, just south of Sydney in a quiet coastal suburb called Woolooware. My father was a high school teacher and he taught me that to get anywhere in life you have to work hard. I believe this to be very true. I love to visit home as often as I can, however, find this is more difficult now that I have my own family and have lived by the beautiful Eastern beaches for the past decade. I guess you could say I am an old-fashioned guy at heart, which is probably why I uphold strong family values and believe that the core of any relationship, business or personal, requires honesty, trust and integrity.
Q: How did you become interested in providing finance and loans and how long have you been doing it?
My interest in finance broking ultimately stemmed from my desire to want to help people through the often-stressful process of buying a home. I started my career as a mortgage broker three years ago in February 2013 after I completed my Diploma of Finance and Mortgage Broking Management in late 2012. Prior to that, I spent 12 years working in sales and relationship management within top tier funds management firms.
Despite learning a great deal in funds management, my true passion was to do something rewarding and engage more intimately with individuals and families, whilst adding significant personal value to their lives. In line with my finance background, mortgage broking seemed like the perfect fit. My personal motto that epitomises why I chose mortgage broking has always been to make an honest living out of helping people by doing something that I love. I guess as people say, choose a job you love and you'll never work a day in your life.
Q: What accomplishment are you most proud of?
Without a doubt, the professional accomplishment that I am most proud of to date is establishing my own business, Elite Finance Professionals. I was driven to start my own business because I was looking for a challenge and a career path that would be truly rewarding. So far, I have found that managing my own business as a mortgage broker is certainly helping me achieve this goal.
Despite the challenges of establishing my own business, it has definitely enabled me to control the quality and degree of professionalism that is guaranteed to each client, which is extremely important to me. Since starting my business I am proud to say that I have won numerous awards including 'Young Broker of the Year' at the 2014 Australia Mortgage Awards, as well as being nominated for several others.
Q: How do you balance your time between work and family?
This can certainly be a tough one. However, I think the most important factor is having clear boundaries between home and work. By having an office in Bondi Junction overlooking Queens Park, I feel I am able to focus entirely on the job at hand. Once I am home I try and be in the moment with my family as much as possible. I have found since starting a family the distinction between home and work life has become more important for not only my mental health but also my overall efficiency and productivity.
Q: What have been your biggest challenges to date?
Given my core entrepreneurial drive and ultimate competitive streak, I would have to say that remaining patient with business growth and remembering to enjoy the journey is my greatest challenge. I find that it is so easy to get swept up in the short-term cycles of business, however, I try to remind myself that a good business must be a sustainable business, in the broader sense. In order to meet my criteria of success, the business must endure and withstand all financial conditions over a long period of time. At the end of the day, keeping a work-life balance is key to enjoying the ride and remaining patient. Hopefully one day my business will be testament to these values. In the meantime, my wife and growing family are very good at keeping my perspective on track.
Q: What are your main business goals currently and how will you go about achieving them?
My primary goals at the moment are to help more people save interest on existing loans and assist individuals and families in the often-stressful process of buying a dream home or investment property.
Currently, there is a huge opportunity to review your home loan, which should be assessed every 3 – 5 years. People are often paying too much interest on their home loan. For instance, on average over the last twelve months, I have saved clients approximately $4,000 p.a on refinancing their home loan to a more suitable lender. Unfortunately, banks look more favourably upon new business versus rewarding loyal clients. As a result, existing clients of banks are often paying higher interest rates than what is currently available to new clients.
An example of how I can help clients is in the case of an individual who came to me last year concerned that he was paying too much interest. I refinanced three loans for this particular client and reduced his interest by $39k p.a which amounted to a staggering $390k over 10 years. He has recently used the extra funds to purchase a commercial property for his business which means he no longer has to spend $60k every year on office rent. This is just one example of how I achieve my business goals and in turn, gain immense satisfaction from assisting other people to meet theirs.
Q: What have you been working on lately?
Over the past few months, I have been focusing on refining the overall service provided to clients of Elite Finance Professionals. I am working on providing a more efficient service due to the fact that the property game is a fast one. I am always looking for ways to do this because if you can make the process quicker, then clients can make decisions more effectively which in turn assists the overall process. The quicker you can help a client understand how much they can borrow, the earlier they will know their purchase limits and ultimately the more stress-free the experience is for everyone concerned.
Q: If you could give our readers one tip, what would it be?
Without a doubt, my greatest advice as a business owner is to outsource. Outsourcing gives you the ability to maximise your time and energy in areas of the business that need your ultimate focus and attention, opposed to trying to be a 'jack of all trades, master of none'. At the end of the day, the more time I have for clients the better my service is and in turn the more successful my business.